Choosing the right hair color can be an exciting and transformative process. Whether you're looking to switch up your style, cover grays, or express your personality, the world of hair color offers a plethora of options. From temporary hair colors to the trendy 27 hair color and the alluring chocolate cherry hair color, this blog will guide you through the decision-making process. So, let's dive in and discover how to choose the perfect hair color that suits you best!
Understand Your Skin Tone: One of the essential factors to consider when choosing a hair color is your skin tone. Understanding your skin's undertones will help you determine which hair colors will complement your complexion. Generally, skin tones fall into three categories: warm, cool, and neutral. If your skin has warm undertones (yellow or peachy), hair colors like golden blonde, caramel brown, or copper red will enhance your natural glow. On the other hand, cool undertones (pink or blue) go well with ash blondes, cool browns, and burgundy shades. If you have a neutral undertone, you're fortunate because you can experiment with a wide range of hair colors.
Evaluate Your Eye Color: Another crucial factor to consider when choosing a hair color is your eye color. Certain hair colors can make your eyes pop and create a harmonious balance. For instance, individuals with blue or green eyes can enhance their eye color with warm hair shades like golden blonde or auburn. Brown-eyed individuals can opt for a wide range of hair colors, including the trendy 27 hair color or the captivating chocolate cherry hair, which can provide a beautiful contrast.
Consider Your Personality and Lifestyle: Your hair color is an expression of your personality, so it's essential to choose a shade that reflects who you are. If you're adventurous and love to experiment, temporary hair colors are a fantastic option. Temporary hair colors allow you to try out different shades without a long-term commitment. On the other hand, if you prefer a low-maintenance approach, choose a hair color that complements your natural shade and requires minimal touch-ups.
Seek Professional Advice: If you're unsure about which hair color suits you best, it's always wise to consult a professional hairstylist. They have the knowledge and expertise to assess your features and guide you toward the most flattering hair color options. A hairstylist can also take into account factors like your hair type, condition, and the level of maintenance you're comfortable with, ensuring you achieve the desired results.
Experiment Gradually: If you're hesitant about making a drastic change, it's perfectly okay to start with subtle variations. Opt for highlights, lowlights, or ombre techniques to add dimension and depth to your hair. These techniques allow you to experiment with color without fully committing to an all-over transformation. As you gain confidence, you can gradually explore bolder hair color choices.
Choosing the right hair color is an exciting journey that involves considering your skin tone, eye color, personality, and lifestyle. By understanding these factors and seeking professional advice, you can confidently select a hair color that enhances your natural beauty and complements your individuality. Whether you're drawn to the temporary hair color trend, the versatile 27 hair color, or the alluring chocolate cherry hair color, the key is to have fun, be open to experimentation, and embrace the transformative power of hair color. So go ahead, make a bold statement, and let your hair color reflect the unique person you are!
Which hair color is most safe?
When it comes to choosing a safe hair color, there are several options to consider. While individual experiences and sensitivities may vary, here are some hair color options that are generally considered safe, especially for black women's hair:
Chocolate Cherry Hair Color:
Chocolate cherry hair color is a popular choice for black women, as it offers a rich, deep hue that complements various skin tones. It typically combines dark brown or black shades with subtle burgundy or red undertones. Many hair dyes now come in ammonia-free formulas, which can be a safer option for coloring your hair.
Colors of Henna for Hair:
Henna is a natural plant-based dye that has been used for centuries to color hair. It is made from the leaves of the henna plant and provides a range of shades, from red to burgundy and even brown. Henna is considered a safe option as it does not contain harsh chemicals like ammonia or peroxide. However, it's important to note that henna is a permanent hair color and can be challenging to remove if you decide to change your hair color later on.
Pretty Hair Colors for Black Women:
There are several pretty hair color options for black women that are generally considered safe. These include shades like dark brown, warm chestnut, deep red, and rich auburn. Opting for hair colors that are closer to your natural hair color can minimize the risk of damage and help maintain the health of your hair.
Hair Spray Color:
Hair spray color is a temporary option that allows you to experiment with different colors without committing to a long-term change. Hair spray color typically comes in spray cans and can be applied directly to the hair for vibrant, temporary results. It is generally considered safe as it doesn't penetrate the hair shaft like permanent dyes.
When choosing any hair color, it's important to consider a few safety precautions:
Patch Test: Before applying any hair dye or color product, perform a patch test to check for any adverse reactions or allergies. Apply a small amount of the product to a small area of your skin, following the instructions provided by the manufacturer. If you experience any irritation or discomfort, it's best to avoid using that particular product.
Follow Instructions: Always read and follow the instructions provided with the hair color product. Different products may have specific guidelines and precautions to ensure safe and effective results.
Seek Professional Advice: If you're unsure about which hair color option is safest for you, it's recommended to consult a professional hairstylist. They can assess your hair type, condition, and any specific concerns you may have to provide personalized recommendations.
Remember, while these hair color options are generally considered safe, individual sensitivities and reactions can vary. It's always wise to do thorough research, consider your unique circumstances, and take necessary precautions to ensure a safe and enjoyable hair coloring experience.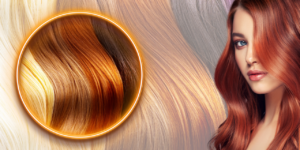 Why choose a hair salon for hair color?
Choosing a hair salon for your hair color needs offers numerous benefits and ensures a professional and satisfactory experience. Here are some compelling reasons to choose a hair salon for your hair color:
Expertise and Skill: Hair salons employ professional hairstylists who have extensive knowledge and expertise in hair coloring techniques. Whether you're looking for a balayage hair color or any other color solution, these stylists have the training and experience to deliver the desired results. They stay updated with the latest trends, techniques, and products in the industry, ensuring that you receive the best hair color solutions.
Personalized Consultation: A reputable hair salon, especially in Bethesda, MD, will offer personalized hair consultations. During these consultations, the hairstylists will assess your hair type, texture, color history, and desired outcomes. They will listen to your preferences and provide expert advice on suitable hair color options that will complement your features and lifestyle. This personalized approach helps create a customized plan tailored to your unique needs.
Professional Product Selection: Hair salons often use high-quality professional hair color products that are not readily available to consumers. These products are formulated to provide vibrant, long-lasting results while minimizing damage to your hair. Additionally, professional stylists are trained to select the appropriate hair color products based on your hair's condition, ensuring optimal results and minimizing the risk of damage or adverse reactions.
Attention to Detail: Visiting a hair salon ensures that your hair color is applied with precision and attention to detail. Professional stylists have the necessary skills to create seamless color transitions, blend highlights or lowlights, and achieve the desired color intensity. Their expertise allows them to create a customized look that enhances your features and suits your style.
Access to Specialized Techniques: If you're interested in balayage hair color, a hair salon specializing in this technique can provide exceptional results. Balayage requires a skilled hand and an understanding of color placement and blending. By choosing a reputable balayage hair color salon near me in Bethesda, MD, you can ensure that you're getting a specialized service from trained professionals who excel in this technique.
Value-added Services: Hair salons often provide additional services to enhance your overall experience. These can include scalp treatments, deep conditioning, post-coloring treatments, and expert advice on hair care and maintenance. These value-added services contribute to the health and longevity of your hair color.
Choosing a hair salon for your hair color needs, such as finding the best hair salon in Bethesda, MD, offers a range of benefits. From expert advice and personalized consultations to professional product selection and specialized techniques, a hair salon provides the expertise and resources needed to achieve your desired hair color while maintaining the health of your hair. So, book a consultation at a reputable hair salon and let the professionals transform your hair color vision into reality.